A fast start will be integral to Ash Barty's success against Danielle Collins tonight, with the American's "fearless" attitude posing a threat.
However, the line-up expected that Barty's American opponent, Danielle Collins, would not take things lying down.
"Nothing is easy. It will be a tough match," Casey Dellacqua said.
"A couple [of advantages] for me is match management. Important times in matches, what she's been able to do in key moments and serve so accurately.
"The other thing is in practice, she's practicing match-specifics depending on her opponent. She will have done that. There's no-one in the game that neutralises other than Ash with the slice.
"As she said she likes to get things on her terms. I think she will do that tonight."
22-time Grand Slam doubles champion Todd Woodbridge echoed those sentiments.
"I think you are absolutely correct," added Todd Woodbridge.
"However Danielle Collins knows that. She will try to take those terms on her own side of the court.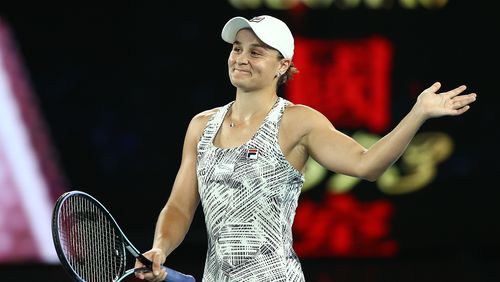 "I think Danielle is the first opponent that will walk out there and not be scared- fearless is the word that comes in my mind with her. She is just unafraid.
"She will take on anybody on a tennis court. It doesn't matter what their name or ranking is. If she starts well, watch out because I think she can put a lot of pressure onto Ash."
Sam Smith pointed to the unpredictability of the clash, saying a fast start from Barty will be key to her chances.
"I just think this could be anything. It could be very one- sided in Ash's favour, particularly Ash started all her matches so incredibly well. That for me has been one of the keys to her success," Sam Smith weighed in.
"And if Danielle Collins doesn't start well doesn't serve well she's in trouble. But it could be a complete slam-down out there with huge hitting and power.
"I think Collins is the first opponent that has much more of a court presence than anyone else.
"You almost feel with Danielle Collins she will try to win the knock-up. That's a different feel for Ash."